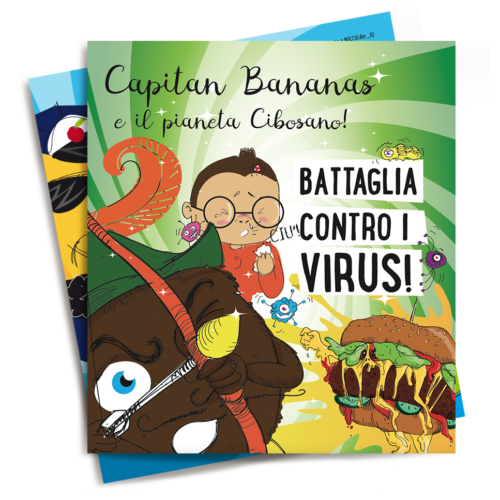 With two paper magazines distributed as an attachment to NoccioLine, and four digital publications downloadable from the website www.capitanbananas.it, Capitan Bananas e il Pianeta Cibosano ("Capitan Bananas and the Cibosano Planet") is a comic about super heroes and distant galaxies, which provides entertainment and amusement while putting across its message: healthy eating helps you to grow and feel good.
Aimed at young readers and speaking their language, it is packed with stories and colour, all designed with the goal of making them understand the importance of healthy eating – especially when it comes to snacks, where the risk of junk food consumption is highest.
In addition to the cartoon narratives, there are also small quizzes and games, with a food theme and with fun characters that typify the magazine.
see also: Capitan Bananas THE GAME
Magazine Information Card
Pages: 8
Cost: Free distribution
Publishing Frequency: Half-yearly
Closed format: 24 x 27 cm
Open format: 48 x 27 cm
Publishing house: NutsforLife
Illustrations: Laura Zavalloni
Texts and storyboards: Elena Di Fazio